Alumni Stories
Students in HealthCare Apprenticeship Program Find Success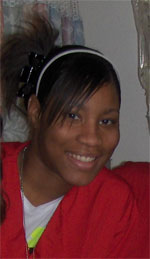 YouthWorks is proud to partner with McKeesport Hospital Foundation to fund year-round training and employment experiences for youth attending the UPMC/McKeesport Area Technical Center (MATC) Healthcare Apprenticeship Program. Since 1999, more than 200 McKeesport Area High School Allied Health Students have participated in MATC Healthcare Apprenticeship Program. This program allows the students to participate in a two-year classroom training program while completing clinical and support service rotations at UPMC McKeesport.
High School graduates can complete a Certified Nursing Assistant (CNA) licensure program on-site; using a six-week course. Last year, 5 graduates from the MATC/UPMC Apprenticeship program obtained their CNA and gained employment through UPMC McKeesport.
One of the MATC Allied Health students this year, Sauntia McClain, recently secured employment at UPMC Montefiore in the Dietary department while still in high school. When talking about this experience she said:
"I learned so much in this apprenticeship that I could use in the future to help pursue my career. I am so glad that I took this class because it really helped me with what I need to know. It helped me get the job that I have now...I do not regret anything about the apprenticeship program."
---